PWD-B420+BF340
Bathroom Wall Hung U-Shaped Shower Seat With Arms And Backrest
Shower chair allows individuals i.e. seniors/elderly or anyone with limited mobility or injury to sit during shower. Create a relaxing shower experience; allows fall risk individuals to shower independently. It is the top priority used at nursing home or hospital. U-shaped cutout is for proper hygiene.
SPECIFICATION
Color: Bright chrome bracket and white seat
Size: 598x440x675mm
Description
The Medline bath and shower chair provides safe and comfortable bathing and showering. Height adjustable with a sturdy, durable aluminum wall track and movable rack allow users to customize chair based on specific preferences.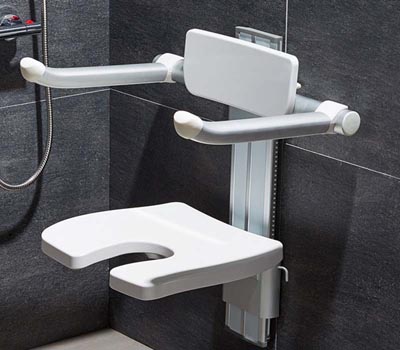 Features:
High Quality & Durable  – The height adjustable shower seat with arms and backrest are made from reinforced UF materials and attach onto a vertical wall track. The wall track made in solid aluminum is professionally installed to wall. The shower seat can hold up to 150kgs, the arms can hold up 40kgs each. There is hydraulic damper kits make the seat soft open. U-shaped cutout is for proper hygiene. It has passed the test of time, reliable for elderly, pregnant woman and others in shower use in static test and life cycle test according to ISO 17966:2016.
Height adjustable-Height adjustable with a sturdy, durable aluminum wall track allows users to adjust chair based on specific references. This adjustment is just operated easily by hand with tools free.
Saving Space -This foldable shower seat can remain in the down position or be folded neatly away when not in use, as well as the armrest could be fold up against to the wall. Unlike the regular eyesore shower stools, it saves you lots of space in your bathroom. Helps saving space efficiently, great for tiny bathroom and toilet.
Stylish & Convenient- Needless to put a portable shower chair which is a eyesore in your bathroom, this height adjustable fold up shower seat is designed for neat and comfort, let people with limited mobility to enjoy home shower or spa. It is so compact that is only 120mm from your wall when folding, saving your precious space. Built in a simple, minimalist model that suits any modern bathroom decor, the classic white with chrome metal trimming matches the aesthetics of the bathroom most.
Easy Clean: The shower seat is made of UF hard plastic with sleek coating, it is smooth and keeps your body hygienic and can be easily cleaned with non abrasive cleaning products.
Please Note: The foldable design is for raising the seat to a vertical position when not needed, but there is probably a little horizontal wiggle when pulled down, please don't worry that It's a normal and secure when using it.
Materials:
The shower seat is constructed with super solid aluminum fixing bracket and super quality UF plastic.
The arms and backrest are made in high quality UF plastic and assembled in solid alumimum rack.
The hing barrel is capped with TPE plastic.
The fixing kits and fasteners are made of stainless steel.
Cleaning:
The product is to be cleaned with hot water or a mild soapy cleaning agent.
We recommend that chalky deposits be removed from aluminum parts using a solution of 3:7 acetic acid: tap water. When the aluminum parts have been washed down with this solution, the parts must be wiped over with a damp cloth, wrung out in clear water. The product must be wiped down with a soft rag wrung out in clear water immediately after cleaning, as some materials may otherwise be discolored and stained, and the surface coating may deteriorate.
Warm Note: Do not use chlorine based, corrosive or abrasive cleaners as it may result in the surface being damaged.