PWD-30A
Bathroom Soap Basket Rack Mounted
Bathroom Soap Basket Rack Mounted No Drilling
The soap basket come with a rack at the back, which is easy to hang on the wall track system. Allow it to move and fix at the right position along the wall track (Wall track is need to order separately)
SPECIFICATION
Movable basket 4
for Horizontal wall track (not included)
Description
Bathroom Soap Basket Rack Mounted No Drilling
Use: 
---
The soap basket come with a rack at the back, which is easy to hang on the wall track system. Allow it to move and fix at the right position along the wall track to make it most convenient for users. (Wall track is need to order separately)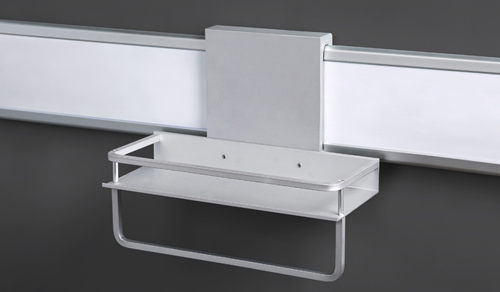 Features: 
---
High Quality – Basket is made in stainless steel, and the back rack is made in aluminum.
Strong weight capacity-You can place your shower gel, shampoo, conditioner, shaving cream, soap and body lotion on the soap dish holder. The shower storage has enough space to hold your bathroom daily products. An ideal organizer for bathroom
 Install Easily –Detachable Design: The shower basket is easy to take down from the wall track. Convenient for you to move the bathroom shelf to wherever you want and make it the most convenient for use. No drilling and no damage to wall.
Please note: This special design is to be used on wall track system.  It is cannot be used individually . The horizontal wall track need to be ordered separately.  The outlook of the soap basket may change time to time according to the stock quantity. Please contact us for latest model when place orders.
Materials: 
---
The front soap basket is in stainless steel and the back rack is aluminum alloy
Cleaning: 
---
1. The product is to be cleaned with hot water or a mild soapy cleaning agent.
2. We recommend that chalky deposits be removed from aluminum parts using a solution of 3:7 acetic acid: tap water. When the aluminum parts have been washed down with this solution, the parts must be wiped over with a damp cloth, wrung out in clear water. The product must be wiped down with a soft rag wrung out in clear water immediately after cleaning, as some materials may otherwise be discolored and stained, and the surface coating may deteriorate.
Warm Note: Do not use chlorine based, corrosive or abrasive cleaners as it may result in the surface being damaged.