GLAMOR POLISHED NICKEL


The art of purifying shapes characterizes this collection of handles, an elegant and sophisticated example of the rationalist design dating back to the XX century.
Avalable in 2 finish: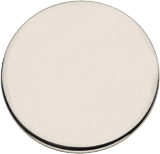 Description
The desire to seek "order" and a sense of quiet calm in the world of design is the genesis of Glamor, the new collection of door handles.
Rooted in the Modern Movement of Italian architecture, which was developed in the twenties and thirties, the style of the Glamor collection blends the criteria of beauty and utility, fully satisfying the purpose of its realization, and that is to open doors with style. Indeed, with great style. Because, as the 4th point of the Modern Movement relays, "What is functional is beautiful".
A purified design, free of decoration, Glamor captures the attention with its extremely clean shapes and innate elegance.
The silhouette is the result of the overlapping and intersection of modules, the size of which is reduced proportionally in relation to the stem of the handgrip. This careful and sophisticated play of perspective is also present in the handgrip, which appears so austere and important.
The elegance of this handle is further enhanced by the polished nickel finish; bright like a mirror, the polished nickel is recognised by its slightly warmer shade, which softens the shapes and allows the Glamor handles to tastefully accompany all doors (chestnut, ebony, walnut, etc.).