GARDA ZINCRAL SATIN CHROME


Gentle and round shapes dominate in this collection that completes each door with its delicate beauty.
Available in 3 finish: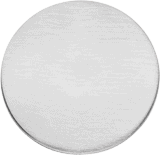 Description
It's not difficult to amaze using special effects but how can it be done quietly? Garda amazes with its delicate beauty that makes everyone agree, from those looking for a classic style to those wanting a more modern touch.
We could say the design is "gentle" due to its rounded and subtle forms.
The curvature of the stem visually reduces the overall size of the handle, while maintaining the ideal size to ensure a secure and comfortable grip. The end part of the handgrip however does increase in size thus preventing the hand from slipping.
Thanks to its edge-free design the Garda collection of handles for doors and windows is also one of the most suitable and safe handles for environments where children are present.
It's easy to choose Garda to decorate the doors of your home thanks to the numerous finishes available, from the most "cool" and modern to the more classic and "warm".