MULTIBLINDO PERFORMA
MULTIBLINDO PERFORMA – Gear Lock
Technical features
Lock with gear mechanism that reduces force on the key and ensures airtight sealing of the door, with heat and sound insulation and energy savings as a result.
Multipoint, triple and lateral versions
Mechanical and electric versions
Hold-open device available (electric version only)
Modular system, for narrower warehouses: the latchbolt can be replaced with a roller or cap (deadbolt function only)
Sliding deadbolts
Centre distance 85 and 92 mm
Description
MULTIBLINDO PERFORMA – Gear Lock
The Performa gear lock is the perfect solution for aluminium doors, which tend to change shape due to the materials they are made of, their size and other external factors.
This means that correctly locking the door becomes more difficult.
The force required to correctly align the door when closing it is significantly reduced thanks to the Performa lock's gear mechanism.
In this way, the airtight closure of the door is ensured and heat and sound insulation improves, maximising energy savings.
The stainless and black painted steel front of the lock make the Performa ideal for modern environments.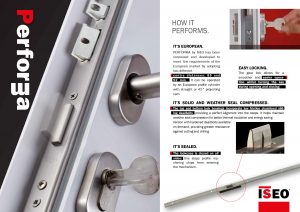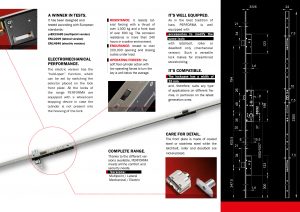 DATA SHEETS
| | |
| --- | --- |
| | Locks maintenance sheet 2020 [EN] |
| | PERFORMA Datasheet EN_2017_04 |
CERTIFICATES
| | |
| --- | --- |
| | EN12209_2003_r0 Mechanically operated locks – classification En |
| | EN14846_2008_r2 Electromechanically operated locks – classification En |
| | ICIM_EN12209_ISEO_039 BE 3 r0_Performa |
| | ICIM_EN14846_ISEO_013 CI 1 r00_Performa elettrica |
| | ICIM_prEN15685_ISEO_045 BE 3 r0_Performa multipunto |
| | ICIM_prEN15685_ISEO_077 BE 3 r0_Performa Gancio multipunto |
| | prEN15685_2009_r0 Multipoints locks – classification En |
MANUALS
| | |
| --- | --- |
| | Kw12191 (Scivolo per profili apertura esterna) |
| | Kw13544 (Performa multipunto) |
| | Kw13581 (Kit rullo Performa) |
| | Kw13745 (Performa laterale e triplice) |
| | Kw13893 (Performa multipunto elettrica – RAEE) |
| | Kw13904 (Performa laterale e triplice elettrica – RAEE) |
DOP & DOC
| | |
| --- | --- |
| | DoC_33 r3_[CE] ROHS_(It En Es Fr De) |
CATALOGUES & BROCHURES
| | |
| --- | --- |
| | Locks for metal frames Catalogue 000114.34UK |
| | PERFORMA 000832.UK Leaflet EN_2017_06 |